Pune's leading eye Hospital for Advanced Cataract Surgery
Pune's leading eye Hospital for Advanced Cataract Surgery
What is Motibindu or Cataract?
Cataract generally develops in old as age related degeneration leading into clouding of natural clear lens of eye. It may develop congenitally in infants & later in young children also. This opacification of the lens may obstruct light entry partially or completely into the eye which results in decreased vision.
Who is at a risk of Cataract?
Following risk factors may lead to cataract:
Old age – senior citizens more than 60 yrs

Patients on long term steroids

Diabetic patients

Excessive exposure to ultraviolet rays

Injury or trauma to the eyes

Obesity

Chronic smoking
What Causes Motibindu or Cataract?
Cataract development is part of normal aging. Lens is made of proteins. It is clear at young age normal allowing passage of light. For accurate focusing, it can change shape also. With aging, protein breakdown occurs in the lens. This results in opacification or clouding of the lens & makes it rigid. 
Now apart of aging, some conditions mentioned below can also cause lens protein breakdown.
Infection or inflammation in iris or uvea.

Injury or trauma to the eye.

Uncontrolled diabetes.

Chronic tobacco chewing & smoking.

Exposure to ionizing radiation, ultraviolet rays, X-rays

Prolonged exposure to sun

Hypothyroidism & hyperparathyroidism

Atopic dermatitis

Familial history of early cataracts

TORCH infection exposure to the developing foetus during pregnancy.

Genetic diseases

Patients on prolonged steroid treatment.
It is difficult to find out cause in many cases.
How do I know I have

Motibindu

or Cataract?
Signs and symptoms of cataract
Cataract may be missed in early stages as its development is painless & slowly progressing.
Vision blur – similar to looking from a clouded or frosty glass.

Diplopia or double vision in eye

Glare from headlights when driving at night

Difficulty in seeing at night

Difficulty in reading – may need bright light

Haloes around objects

Dull looking colours. Loss of contrast sensitivity

Sudden near vision improvement known as second sight.
What tests are needed to be done?
You need to visit an ophthalmologist for comprehensive eye examination. Your doctor will perform examination on slit lamp & some other tests may be needed. Secondary cataract will need workup to check associated risk factors.
Currently cataract surgery is treatment of choice for cataracts. There are many advances in cataract surgery & outcomes are excellent.
Is there any other way to treat

cataract

other than surgery?
Initially we can relieve symptoms temporarily by some of the below treatment options.
For many people in initial stages use of :
Magnifying glasses for reading

Bifocal glasses

Improved lighting conditions

Sunglasses when outdoor
These are not permanent solutions. Cataract will develop completely & cause further reduction in vision. Symptoms will worsen & may lead to loss of vision. At this stage, surgical removal of cataract is the only option.
How Do I Know if I Need a

Cataract

Surgery?
Most popular surgery for cataract is phacoemulsification. In this we use ultrasound waves to break up natural lens which is sucked out. Then we place an intraocular lens (IOL) in this position which is specifically designed to provide you most accurate vision. These days, cataract surgery is more like day care procedure. There is no need of hospitalization. Patient walks in for surgery & walks out post recovery period which is usually 1-2 hrs. This is a voluntary surgery which can be pre-planned as per patients' convenience. Sometimes cataract may mature completely & cause other eye problems. Then it may need to be operated on an emergency basis.
This is the commonest question we answer each day at Indovision Cataract & Laser Eye Centre. Our patients undergo complete eye workup. Cataract surgeon will explain you the diagnosis & how the disease may progress. Doctors will explain correct time to operate & what would be surgical outcome. We will give you rough idea of best possible vision post-surgery. This is done by trying out different lenses till you fell vision is accurate.
Once your are satisfied then we will evaluate for any posterior segment pathologies which may affect surgical outcome. Doctors will explain various types of surgeries available for you. We offer all latest cataract surgeries in Pune.
Will surgery cure me completely?
Cataract is anterior segment pathology. Surgery will extract cataractous lens & place artificial lens to provide best visual acuity. But sometimes posterior segment pathologies may co-exist in patients which will result in poor vision. For example, retinal or vitreous pathologies or macular degeneration.
Should I wait till the

cataract

advances or matures?
Lens will become harder as cataract matures. In phacoemulsification, we use ultrasound waves to break this cataractous lens inside the eye. Harder the lens, more difficult it is to break & remove. Very matured or hard lens may suddenly burst & cause vision loss which may be complete. It is always better to perform cataract surgery when lens is soft & safe to operate.
How do I prevent

cataract

?
As we know cataract is part of normal aging. We cant really avoid cataract but we can slow down development of cataract. Following precautions are advised:
Excellent control of diabetes.

Periodic eye check-up

Sunglasses with UV filter

Antioxidant rich vegetables & fruits
Which is a good technique for advanced

cataract

surgery?
Currently phacoemulsification is surgery of choice for cataract. It has many advantages over SICS.
It is micro incision surgery. It is stitch less, safer & offers quicker recovery.
How do you remove cataracts?
Advanced Cataract Surgery Treatment in Pune.
Advanced Cataract Surgery Treatment in Pune.
Medications can't really cure or treat cataracts completely. Currently cataract surgery is the only treatment option for normal vision. We offer most advanced cataract surgery in Pune which are safer & guarantee normal vision. Very minimal risk is involved.
Cataract may affect you vision minimally or completely. You can prescription eyeglasses, sunglasses or magnifying glasses to improve vision but this is only temporary. Cataract will progress & your vision may worsen. At such stage, surgery an restore normal vision. Both eyes can be operated depending on maturity of cataract. You will feel significant improvement in vision post surgery.
Most advanced foldable lens are best choice for micro-incision surgeries. They offer better night vision.
Intraocular lenses also known as IOL. Various types of advanced IOL are available. The choice for IOL depends on patient's vision status & post-surgery vision expectations. Our lens implant expert will discuss various lens types with you & how they benefit your vision. In general, following 3 types of IOL are most commonly available & used.
As the name suggest, they offer signal focus mainly for distant visual acuity. It doesn't correct near vision; hence you have to use prescription reading glasses for near vision.
These lenses offer various focus. They can correct both near & distant vision. It will suit most patients but very small number of patients experience discomfort from these lenses in form of halos or glare.
Astigmatism is result of abnormal corneal shape or curvature which can be corrected by toric lens. It can be considered for patients with high astigmatism in prescription.
This latest technology IOL creates one focal point which results in improvement depth of focus or range of vision. It is particularly beneficial in patients with presbyopia. Patients have better spectacle independence with good distant & intermediate vision.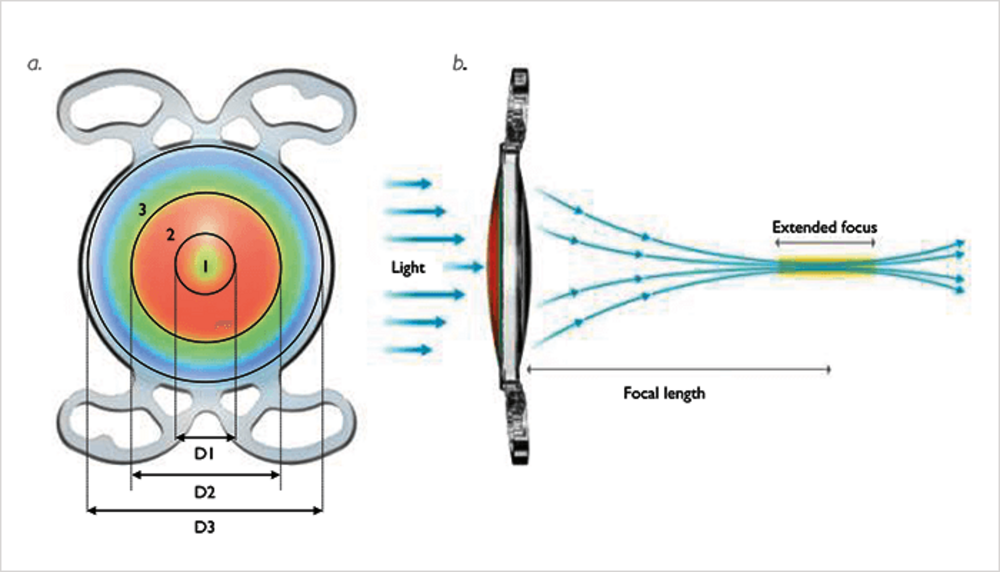 What precautions are to be taken after Motibindu or

Cataract

surgery?
Avoid air pollution, dust, foreign objects & water from entering eyes.

Don't rub your eyes & avoid compression during sleep for 1-month post-surgery.

Avoid hair wash for 1 month.

Take your post op medications regularly.

Follow good hygiene practises for eyecare.
Will I require glasses after surgery?
Surgical outcome partially depends on your pre-existing eye conditions for example posterior segment pathologies. Every eye heals differently post-surgery. Only near work may require glasses but most gross daily activities can be done without any glasses.
What is After-

cataract

or charri?
Lens has a cover which can become thick with normal aging. This may lead to blurring of vision which is commonly referred as "charri" or "after cataract". This doesn't require surgery & can be treated with laser procedure.
What are commonly done advanced

cataract

surgery??
Indovision uses latest surgical techniques & state of the art instruments for cataract treatment.
Microincision or Phacoemulsification Cataract Surgery
Microincision or regular phaco cataract surgery is the latest technique for cataract surgery. A tiny incision of 2-3 mm is made.We use a bent needle or forceps is used to perform capsulotomy. The natural lens is emulsified which ultrasound & high vacuum is used to take it out from the eye. A new transparent intraocular lens is implanted in the capsular bag.
Cost of

Cataract

Surgery in Pune
The quality of vision depends on the quality of lens implanted. Depending on the work preferences of an individual appropriate lens can be selected. The cost of cataract surgery depends on the choice of intraocular lens selected. Cataract surgery cost can range from rs. 10,000 to rs 1,00,000 per eye. When you visit our eye hospital, you will be thoroughly evaluated & the exact cost for your surgery can be determined.
Choosing the Best Eye Hospital for Advanced

Cataract

Surgery in Pune
Many a times, one may experience blurring, dimness of vision or glare. One must consult with an eye doctor in such situations. You may ask, all your queries in your appointment. You can even drop an inquiry on our website & we will get back to you. In case, you have been advised surgery elsewhere do not worry. Doctors at Indovision can guide you through your eye problems. Our team of highly trained eye doctors are always at your service.
|   | Advanced Cataract Surgery |
| --- | --- |
| 1st visit | 1–2 days |
| 2nd visit | 7–10 days |
| 3rd visit | 4–6 weeks |
| 4th visit | 3–6 months (discharge if satisfactory) |