Vision Correction Results
Safe, effective, and proven results Vision correction procedures have been approved by the U.S. Food and Drug Administration (FDA) both in terms of safety and results. It is one of the most commonly performed specs removal procedure. In a study conducted by the U.S. Food and Drug Administration (FDA) it was observed that more than 98 % of the patients who underwent LASIK were satisfied with the results of the procedure. The same patients had vision better than 20/20 following the procedure and they were now able to drive a car without glasses or contact lenses. This study also reported that the quality of life had improved in these patients.
For many patients their post-LASIK vision exceeds their expectations. A large number of people achieve 6/5 or 6/4 vision, which is better than 6/6, at their three-month follow-up appointment.
In terms of the procedure and recovery, LASIK is a minimally-invasive procedure and patients can notice the difference in the vision almost immediately. The recovery after Lasik is very fast and most patients are able are able to resume their day-to-day activities from the very next day of the procedure, like going for a walk or working at their desks.
Difficulty in night vision are usually described as ghosting, haloes, or glare—but can also be referred to as difficulty in seeing in dim or low-lighting conditions. Night vision disturbances are often a concern for many of our patients. So we measure the size of the pupil in dim light and then select our patients for LASIK. Some 30% to 40% of the population with myopia experience a slight impairment to their vision once the sun goes down.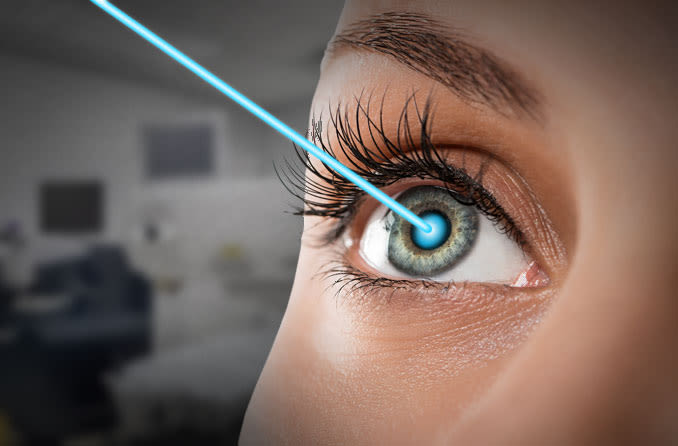 With latest laser technology night vision problems can be prevented. With older forms of laser vision correction, night vision was a concern. However, state-of-the-art lasers used by us at Indovision cataract & Laser Eye Centre greatly remove the potential for any night vision disturbances.
Many patients even report a noticeable improvement to their night vision following LASIK surgery—in fact, 97% of people noticed their night vision greatly improved.